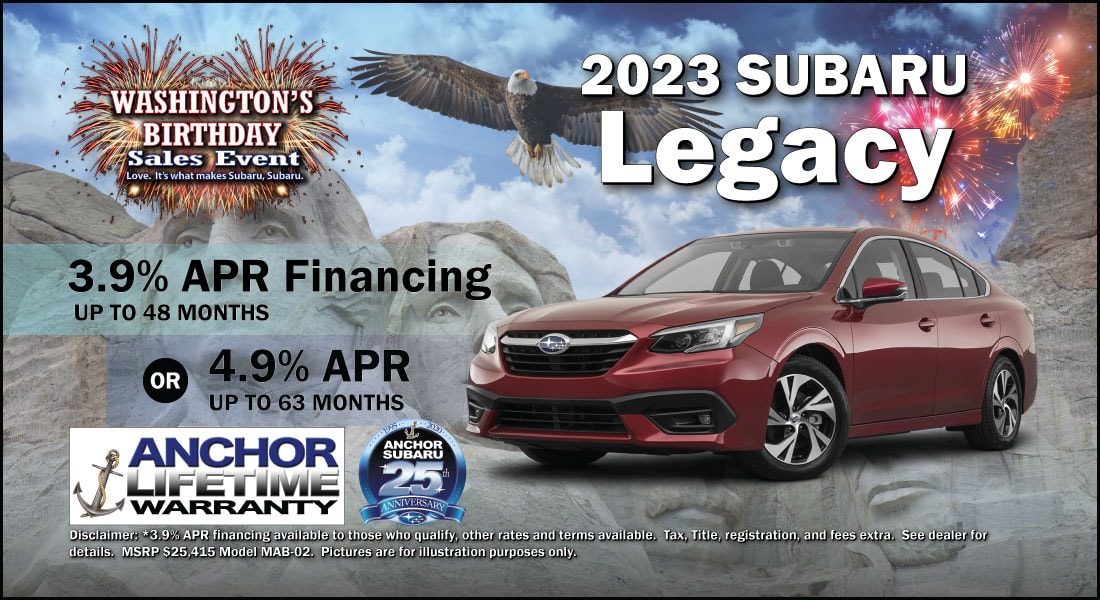 2023 Subaru Legacy - 3.9% APR Financing Available for 48 months. Or 4.9% APR for up 63 months! Offer Expires 2/28/23

Subaru designers have decided to implement minor, but important changes on the new version. The body of the new Legacy is sleeker, the details are more subtle than on the previous-year version, the 2019 Subaru Legacy, but the design direction is clearly recognizable The grille on the 2020 model is more assertive, the headlights add more character, the roofline is more fluid, conferring more aerodynamics and an easy-to-recognize style. .
Common Questions About Subaru Legacy:
How many miles can Subaru Legacy last?
The answer to that question is ultimately up to you.  Subaru is known to produce some of the longest lasting vehicles on the road today, and many of our customers remain loyal to the brand.  Considering driving habits and proper preventive maintenance your Subaru can easily go over 150,000 or even 200,000 miles if well cared for.  You may not hit that figure before you decide to upgrade to a newer Subaru car or SUV but we have plenty of customers that make it there.
Does Subaru Legacy Have EyeSight?
Yes! Standard on all models. The 2023 Legacy features standard EyeSight® Driver Assist Technology, which monitors traffic movement, optimizes cruise control, and warns you when you're swaying outside your lane, and more!