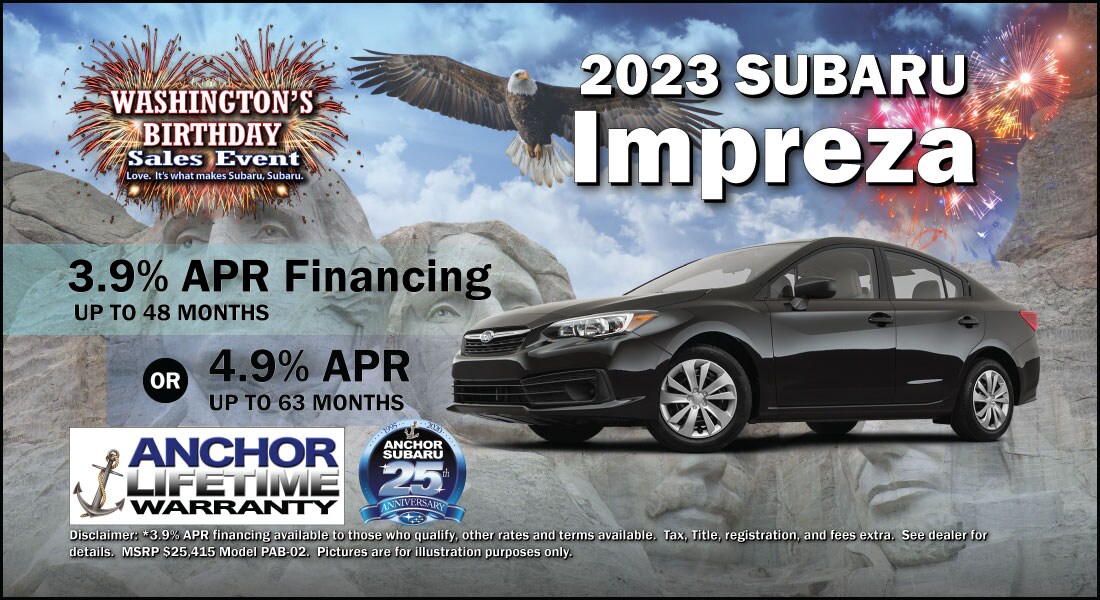 2023 Subaru Impreza - 3.9% APR Financing for 48 months or 4.9% APR Up To 63 Months. Expires 2/28/23

The 2022 Subaru Impreza 5dr  comes with Automatic CVT, Eyesight, Blind Spot Detection, Rear Cross Traffic Alert, Splash Guards, & Steering Responsive Fog Lights.  
Common Questions About Subaru Impreza:
Is the Subaru Impreza a hatchback?
Great question!  The Subaru Impreza can be available as a 4 door sedan or the 5 door hatchback.  A question for you is, do you prefer a trunk or a rear cargo area similar to an SUV?  It's your choice and Anchor is happy to show you both options inside and out.
Does Impreza have AWD?
Yes!  Both the sleek sedan or versatile 5-door Impreza come equipped with Subaru's Symmetrical All-Wheel Drive system.  It's just one of the reasons the Subaru Impreza is an attractive, stable, and economical midsize car for New England drivers.